Winning design revealed for Ottawa's Memorial to the Victims of Communism
Today, Arif Virani, parliamentary secretary to Canadian Heritage Minister Mélanie Joly, revealed the winning design for the Memorial to the Victims of Communism in Ottawa.
Toronto architect Paul Raff's design, created in partnership with Michael A. Ormston-Holloway (designer and arborist), Brett Hoornaert (landscape architect) and Luke Kairys (landscape architect), will be built just west of the terraces of the Garden of the Provinces and Territories at Bay and Wellington along Confederation Boulevard.
The Memorial to the Victims of Communism – Canada, a Land of Refuge will recognize Canada's international role as a place of refuge for people fleeing injustice and persecution. The Memorial will honour the millions who have suffered under communist regimes.
Last fall, the Department of Canadian Heritage re-launched the national design competition after the original competition elicited heated public debate. Some of the concern was related to its proposed site, a prominent location between Library and Archives Canada and the Supreme Court that since the 1920s had been reserved for a new building for the Federal Court. The new competition called for a monument placed on the current chosen location, a grassed area approximately 500 square metres in size.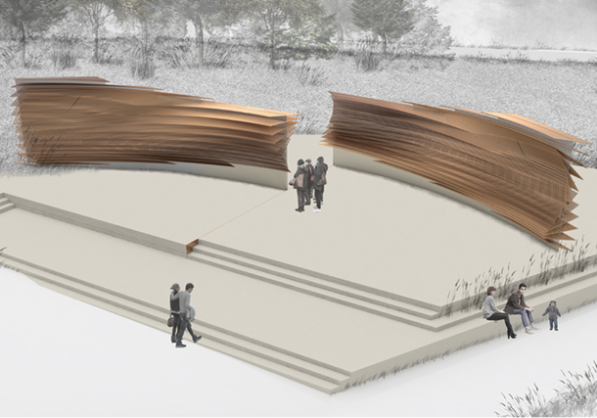 In November 2016, a jury shortlisted five design teams to create an emotionally compelling and sensitively designed Memorial in Canada's Capital Region. In addition to Team Raff, the shortlisted teams included: Team space2place (Jeff Cutler, landscape architect and Ken Lum, artist); Team Mills (Karen Mills and Ben Mills, public art consultants; Silvano Tardella and Robert M. S. Ng, landscape architects; Jordan Söderberg Mills, Vong Phaophanit and Claire Oboussier, artists); Team Moskaliuk (Wiktor Moskaliuk, architect; Claire Bedat, landscape architect; and Larysa Kurylas, artist); and Team Reich+Petch Architects (Tony Reich, architect; Catherine Widgery, artist; and Matthew Sweig, landscape architect).
The winning $3-million project will be funded by the federal government and Tribute to Liberty, and is expected to be completed by 2018.