Winners unveiled for year two of Winter Stations Design Competition
Following a landmark inaugural year, the design jury of Winter Stations Competition returns to announce the four winning designs and three student designs that will brighten up Toronto's wintertime beaches. Competition this year was fierce – with submissions soaring to almost 400 entries from local and international designers.
"Winter Stations 2016 attracted brilliant ideas from around the world and it was agonizing to have to pick only four winners from an amazing field of 380 submissions," says Lisa Rochon, Winter Stations Design Jury Chair.
Playing upon the typically harsh Ontario winters, this year's theme – Freeze/Thaw – challenged artists and designers to create a structural response to the changing climactic conditions the cold season brings. The result was four playfully immersive designs that encourage public participation.
"Visitors will discover a feast of textures in the schemes – from vessels clad in charred wood to sailing rope to vintage furs," adds Rochon. "Inventive, playful and irreverent, all of the installations can be read like pieces of poetry on the beach. "
Founded by RAW Design, Ferris + Associates and Curio, Winter Stations Design Competition's uses design to inspire Torontonians back outside.
"The public participation in Winter's Station's inaugural year proves that even the most overlooked winterscapes can be injected with vibrancy and life," says Ted Merrick, lead designer at landscape architecture firm Ferris + Associates. "Our ultimate goal for year two remains the same – to encourage the community out of hibernation and back to the beach."
The four Winter Stations finalists are:
In the Belly of a Bear by Caitlind r.c Brown, Wayne Garrett and Lane Shordee. Calgary, Canada
Juxtaposing a dark, charred aesthetic against the bright, stark landscape, In the Belly of a Bear invites the public to climb up a wooden ladder into a domed interior lined densley in thick, warm fur. Within this cozy, warm space, visitors can find reprieve from the cold outside or gaze out the large round window pointing towards the lake. A truly collaborative effort, In the Belly of a Bear was envisioned by a team of three Calgary-based artists, each bringing a distinct discipline to the project.
Floating Ropes by MUDO (Elodie Doukhan and Nicolas Mussche). Montreal, Canada
Creating a highly sensory experience, Floating Ropes appears as a suspended cube of ropes, offering a playful and porous matrice into which visitors take shelter. At the centre of the multilayered rope forest, the lifeguard chair provides the perfect spot for the public to view the lake from a unique perspective. Based in Montreal, architecture collective MUDO bring a handcrafted approach to their work – ranging from microarchitecture to urban design.
Sauna by FFLO (Claire Furnley and James Fox), Kent, UK
Inviting the public to embrace this year's Freeze/Thaw theme, Sauna is a completely immersive art installation bringing heat to the blustery lakeshore. Built from timber, the interior is comprised of tiered seating, the higher the hotter. Meanwhile its transparent exterior walls allow walkers by to get glimpse of thawing bathers within, with solar powered lights illuminating the structure at night. The design was submitted by FFLO, a UK-based practice with a comprehensive background in landscape architecture.
Flow by Team Secret (Calvin Fung and Victor Huynh). Toronto, Canada
Capturing the transitionary moment between freeze and thaw, Flow re-imagines a single ice crystal as a 3D star-shaped module digitally fabricated through slot-fitting wood connections. While capable of crystallizing into a solid state, the material is able to be easily reconfigured, like a liquid, due to the system's loose bonds. Submitted by graduate students Calvin Fung and Victor Huynh, Flow is a reflection of the duo's interdisciplinary backgrounds.
Building upon last year's participation from Ryerson, 2016 sees teams from three schools submitting design concepts; Ryerson University's Faculty of Engineering and Architectural Sciences, Landscape and Design, OCAD University's School of Environmental Design and Laurentian University's Faculty of Science, Engineering and Architecture.
Lithoform by Ryerson. Toronto, Ontario
Project team: Remi Carreiro, Aris Peci and Vincent Hui, Associate Professor, Ryerson University
Inspired by the natural formations formed by frost in the outer layer of earth, or Lithosphere, Lithoform aims to create a reprieve from the harsh winter winds. The structure's cleverly designed fissures create a polychromatic cavern of filtered light around the lifeguard station.
The Steam Canoe by OCADU. Toronto, Ontario
Project team: Curtis Ho, Jungyun Lee, Monifa Onca Charles, Reila Park, Hamid Shahi, Lambert St‐Cyr, Jaewon Kim, Jason Wong and Mark Tholen, Assistant Professor, Faculty of Environmental Design, OCADU
Composed of wood panels, OCADU's design resembles that of an upside down canoe, creating an interior dome for the public to take shelter. Evacuated solar tubes placed at the rear of the structure are designed to turn snow to steam, creating a halo of fog emerging from within this 'steam canoe'.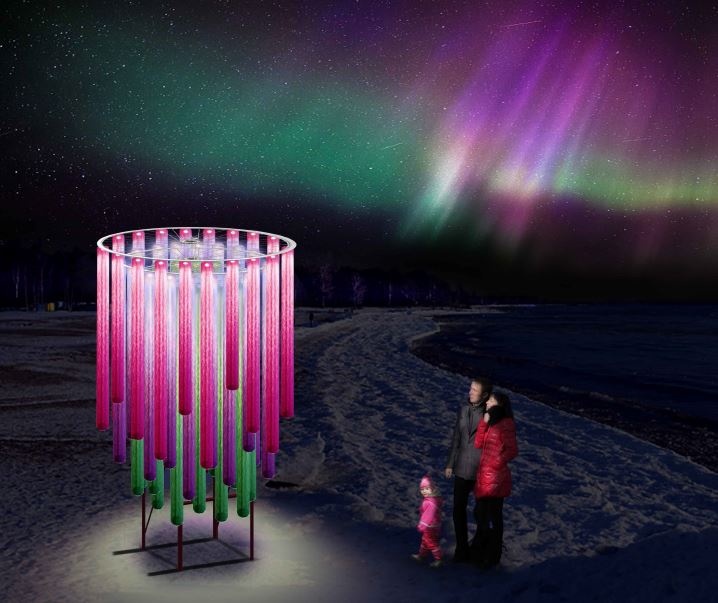 Aurora Borealis by Laurentian University. Sudbury, Ontario.
Project team: Chris Baziw, Ra'anaa Brown, Trevor D'Orazio, Andrew Harkness, Matthew Hunter, Danielle Kastelein and Terrance Galvin, Director of Architecture, Laurentian University
Made from sewn fabric, LED lights and a welded aluminium frame, Aurora is an kinetic sculpture that hovers above the lifeguard station like a spinning chandelier. As the visitor approaches and touches the illuminated tubes, they respond to body heat by changing colour.
All seven installations will be built from February 10 to 14 along Kew, Scarborough and Balmy Beaches in the heart of The Beach community, broadly located south of Queen Street East, between Woodbine and Victoria Park Avenues. Installations will debut on Family Day, February 15, 2015 and will stay open to the public until March 20, 2015.
This year's Jury includes Jane Hutton, Landscape Architect/Assistant Professor, Harvard University GSD; Alex Josephson, Architect/Co-founder, Partisans Architecture; Lily Jeon and Diana Koncan, Winter Stations 2015 Winners (Snowcone); Catherine Osborne, Editor-in-chief, Azure Magazine; and 2016 Jury Chair Lisa Rochon, Senior Fellow, Global Cities Institute U of T and Founder, Friends of the Beach Parks.
Winter Stations sponsors for 2016 include the Ontario Association of Architects, Great Gulf, Diamante Developments, Demirov Fine Homes, The Rockport Group, Fieldgate Homes, Urban Capital and Bousfields as well as the Ontario Association of Landscape Architects, the Design Exchange and the City of Toronto.