Governor General's Medal Winner: The Springdale Library & Komagata Maru Park
WINNER OF A 2020 GOVERNOR GENERAL'S MEDAL IN ARCHITECTURE
LOCATION Brampton, Ontario
ARCHITECT RDH Architects (RDHA)
The Springdale Library and Komagata Maru Park provides the community of Brampton, west of Toronto, with an inclusive gathering place. A progressive architectural counterpoint to the typical suburban setting, it has become a place of pride for the city.
The site is framed by a commercial plaza to the east, a major artery to the south, and a natural ravine to the north and west. The architects strategically positioned the library as close to the road as possible. This placement solidifies the building's street presence, preserves the site's natural topography and irrigation patterns, and directs interior views towards the ravine. The siting also allowed for parking and drop-off areas with canopied entry forecourts, and maximized room for a neighborhood park.
For the architects, the project is as much about the building as it is about establishing a landscape. At the library's edge, an organically shaped perimeter joins the building and its two courtyards. Across the site, an undulating topography includes a fluidly shaped ceiling inside and mountainous green roof outside, while the sloping floor slab of the interior connects with the flat landscape of the park.
The neighbourhood park includes a splashpad, children's play area, and series of terraced contemplative gardens for older users. The splashpad and play area have been organized around the word "Imagine," spelled out in five-metre-high letters. The oversized letters are oriented in both horizontal and vertical planes, becoming an interactive feature for children to discover.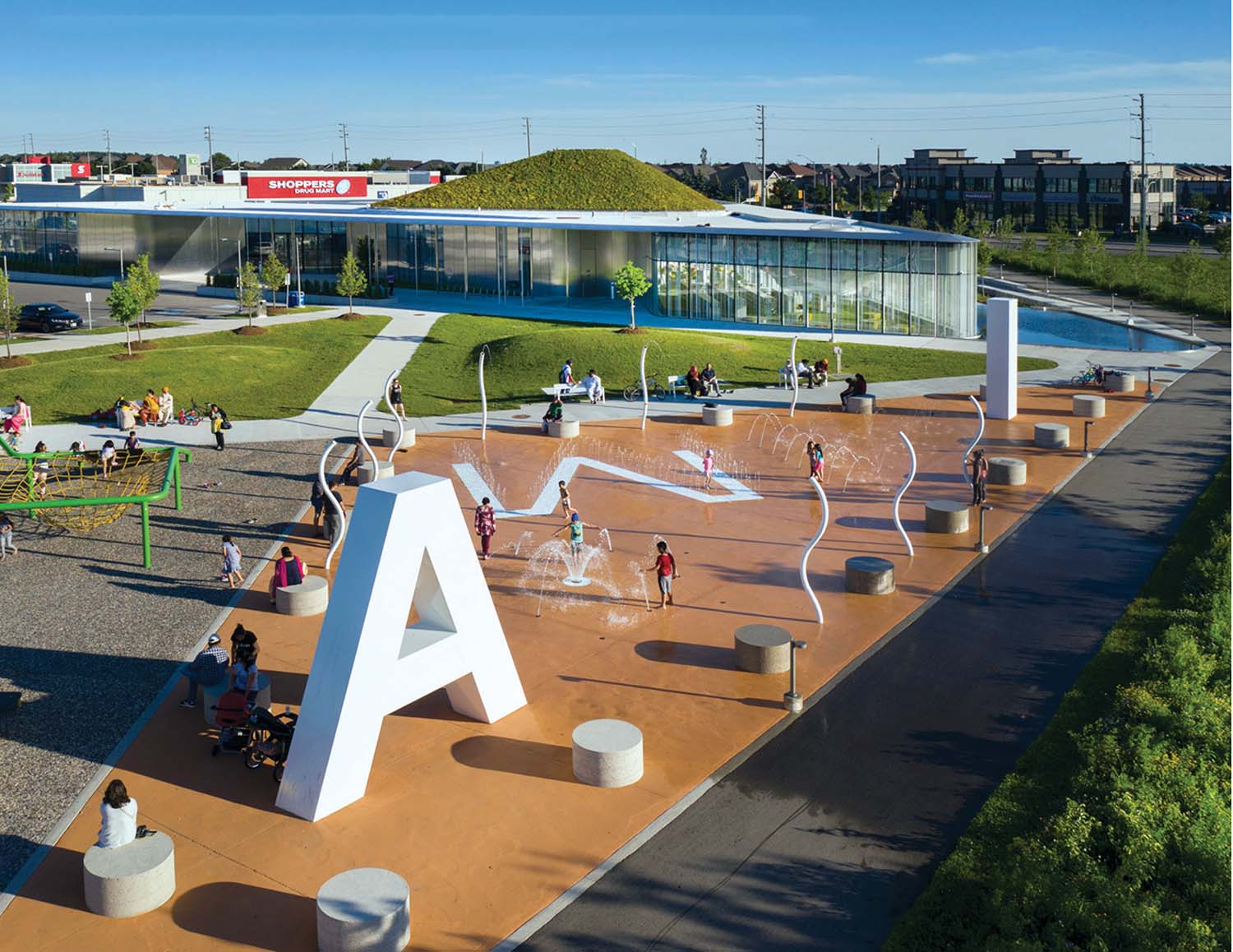 RDHA design partner Tyler Sharp collaborated with University of Toronto assistant professor Brady Peters, a generative design specialist, to create a solar-responsive ceramic frit pattern for the building's glazed surfaces. Its striated patterns are rendered in white to dark gray tones; the spacing expands and contracts based on solar orientation. The vertical frit visually merges with a series of stainless-steel rods that support slender canopies and form the courtyard enclosures. Together, these elements evoke the turning pages of a library book, or the tree trunks in a forest.
The new building reflects the vision of an institution that strives for inclusivity, innovation, dedication to learning, collaboration, curiosity, courage and accountability. As a librarian puts it, "The stunning architectural features of Springdale Branch Library stand out, raising awareness and building excitement for what libraries do."
:: Jury Comments ::  The jury lauded the element of joyful surprise in this suburban library. Outside, visitors can appreciate the thoughtful attention to refined details: the slenderness of the columns, the thinness of the roof. The three courtyards orchestrate strategies for echoing the landscaping inside and capturing different types of experience. Inside, the building offers unexpected encounters with the oculi and magical views across the interior. By not being shy about celebrating the suburbs, this confident and competent design makes a civic contribution the local authorities in Brampton should be proud of.
Read the Canadian Architect review of this project here.
PROJECT TEAM Tyler Sharp, Bob Goyeche, Sanjoy Pal, Shelley Vanderwal, Carlos Tavares, Juan Caballero, Soo-Jin Rim, Gladys Cheung, Lisa Sato, Simon Routh, Anton Freundorfer | CLIENT The City of Brampton and the Brampton Library | STRUCTURAL WSP / Halsall Ltd. | MECHANICAL/ELECTRICAL/LEED Jain Associates | LANDSCAPE NAK Design | CIVIL Valdor Engineering | WATER FEATURES Resicom | SPECIFICATIONS DGS Consulting services | CONTRACTOR Aquicon Construction | OCCUPANCY June 30, 2019 | BUDGET $16.67M