RAIC Journal: Enter to Win Big
Maria Cook
Editor, RAIC Journal
Rédactrice en chef, Journal de l'IRAC
Canadian architects are invited to submit their outstanding projects for a chance to win one of the most generous architecture prizes in the world.
The second edition of the Moriyama RAIC International Prize competition is now open for submissions, with a March 2017 deadline. The laureate will receive $100,000 and a sculpture at a gala in Toronto on September 19, 2017. The award also brings international media coverage.
Founded in 2014, the Moriyama RAIC International Prize is unusual. It celebrates a single work of architecture that is judged to be transformative, inspired as well as inspiring, and emblematic of the human values of respect and inclusiveness.
It is open to all architects, irrespective of nationality and location, and recognizes buildings that have been in use for at least two years before the entry deadline.The inaugural winner was Chinese architect Li Xiaodong for the Liyuan Library, located in a village outside Beijing. "This project is about the relationship of a building to its surroundings and its role in serving the community, rather than a building as a discrete object," Li wrote in his submission statement.
As in 2014, three Moriyama RAIC Student Scholarships will be awarded to students registered full-time in an accredited Canadian university architecture program.
"The inaugural Moriyama RAIC International Prize and Scholarships competition was a great success," says Canadian architect Raymond Moriyama, FRAIC, who partnered with the RAIC and the RAIC Foundation to create the prize.
"For the next, we hope the prize will attract an even greater number of outstanding submissions from architects and firms, nationally and worldwide," he says. "I look forward to an innovative, transformative architecture to not only win the prize, but to awaken ideas and thoughts that will alter our collective aspirations for the future."
The jury will consider a range of criteria, including:
the building's formal and experiential qualities;
the efficiency and effectiveness of the building in use;
response to site, climate and environ-mental conditions;
the quality of engagement with the broader context—social, cultural, historical and political;
craftsmanship;
timelessness.
Deadline is March 8, 2017. For details, visit moriyama.raic.org.
---
Les architectes canadiens sont invités à soumettre leurs projets remarquables et à courir la chance de remporter l'un des prix en architecture les plus généreux au monde.
La deuxième édition du Prix international Moriyama IRAC est maintenant lancée et la période de présentation des candidatures prendra fin en mars 2017. Le lauréat recevra un prix de 100 000$ et une sculpture lors d'un gala qui se tiendra à Toronto, le 19 septembre 2017. Le lauréat fait également l'objet d'une couverture médiatique internationale.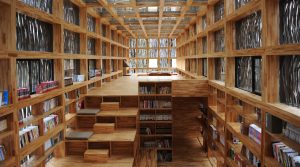 Fondé en 2014, le Prix international Moriyama IRAC est un prix inhabituel. Il récompense un bâtiment jugé transformateur, inspiré et inspirant, et emblématique des valeurs humaines de respect et d'inclusion.
Il est ouvert à tous les architectes, peu importe leur nationalité et leur lieu d'exercice, et il célèbre des bâtiments en usage depuis au moins deux ans au moment de la date limite de dépôt des candidatures.
L'architecte chinois Li Xiaodong a été le premier lauréat de ce prix pour la bibliothèque Liyuan, située dans un village à l'extérieur de Beijing. «Ce projet porte sur la relation d'un bâtiment par rapport à son environnement et sur son rôle visant à desservir la population, plutôt que d'être un objet discret», a écrit Li dans son exposé de candidature.
Tout comme en 2014, trois bourses étudiantes du Prix Moriyama IRAC seront remises à des étudiants inscrits à plein temps dans un programme d'architecture d'une université canadienne.
«Le Prix international Moriyama IRAC et le concours des bourses étudiantes ont connu un grand succès à leur inauguration», a déclaré l'architecte Raymond Moriyama, FRAIC, qui s'est associé à l'IRAC et à la Fondation de l'IRAC pour créer le prix.
«Pour cette prochaine édition, nous espérons qu'il attirera un nombre encore plus grand de candidatures extraordinaires d'architectes et de cabinets d'architectes d'ici et d'ailleurs dans le monde», a-t-il ajouté. «J'espère qu'un projet d'architecture innovatrice et transformatrice remportera le prix et qu'il éveillera les idées et la réflexion qui modifient notre aspiration collective pour le futur de l'humanité».
Le jury évaluera les candidatures sur plusieurs critères, dont les suivants:
les qualités formelles et expérientielles du bâtiment;
l'efficacité et l'efficience du bâtiment dans son usage;
l'adaptation à l'emplacement et aux conditions climatiques et environnementales;
la qualité de l'engagement dans le contexte élargi—social, culturel, historique et politique;
le savoir-faire;
l'intemporalité.
La date limite est le 8 mars 2017. Tous les détails à la page moriyama.raic.org/fr