Pandemic effect: Theatre design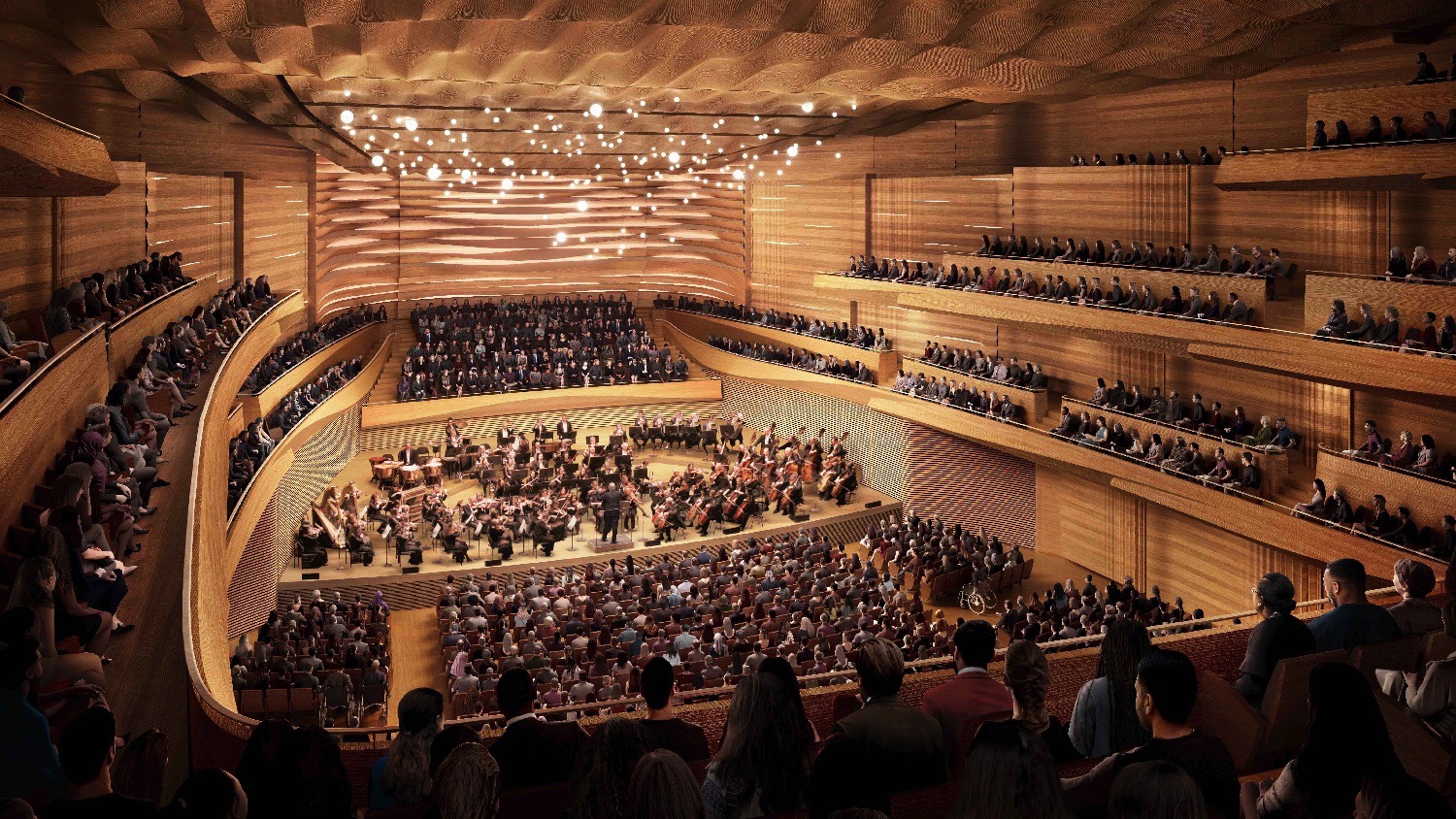 TEXT Matthew Lella, Principal, Diamond Schmitt Architects
Performance venues have a long history of coping with a pandemic playbook. Shakespeare's Globe Theatre was shut more than once to wait out a plague. The so-called Spanish Flu brought the curtain down on vaudeville. The impact of COVID-19 on theatres is presently devastating, and the full toll will not be fully understood until it's over, but as with pandemics past, the footlights will shine again.
The design considerations for the next era of live events are informed by the mantra we're all familiar with—keep two metres apart, wear a mask, and wash your hands frequently. So what does this mean for a night on the town?
One clue comes from the gilded opera houses of Europe, where private boxes were once family-owned. Indeed, these privileged perches defined the architecture of the hall. The custom of segregating small groups had more to do with status than public health, but it provides a pathway for social distancing today. As we gather in social bubbles of family and friends now, a pattern is already taking hold in theatres as they prepare to re-open. How these "circles" or "bubbles" are manifest architecturally is a wonderful opportunity for design.
This spring, the Berliner Ensemble removed 500 of its 700 seats. The 200 remaining places were paired to create what artistic director Oliver Reese called "an experience that is special, that will anchor itself in people's memory."
So will those who experience the Berliner Ensemble sitting "apart together" hear new things? I think so. They will experience moments they never noticed in a full house. But no theatre can survive by selling just 28 percent of capacity. And, in the end, intimate artistic connection is the appeal of live performance, and that is fundamentally challenged by COVID-19's imposition of distance.
 Artistically, we are adapting to the virtual performances occurring on our screens. Orchestras, operas and spoken word have adapted to the medium and to a large extent, audiences have followed, perfecting a new art form in the process. Ironically, the isolation imposed by the pandemic is creating new bridges to performance.
Will the design of new and re-imagined halls reflect this awakening? For the renewal of David Geffen Hall at Lincoln Center, Diamond Schmitt's design eliminates the formality of the proscenium to create a more engaging experience. And there could well be a role for the technologies that are bringing us closer together in the new era of live events.
Let's consider how we could apply "household bubbling" to block sections out in a theatre—and sell a show that way. Here are diagrams of a typical orchestra-level floor with a centre section and two aisles.
They show what happens if you try to lay out bubbled groups of different sizes, keeping people who are not in the same bubble a minimum of two metres apart. First, as a baseline, we have tickets sold as singles with only 14 percent of the room occupied.
Next, we look at tickets sold in pairs—as is most often the case—which still yields a fairly sparse house that's only 26 percent full.
What's interesting to me is the idea of expanded social bubbles. If a theatre could sell tickets in clusters of 10 (one double household), then the room starts to feel a little more legitimately full.
At groups of 15, with 59 percent of the room's capacity, it's actually decent, all the while maintaining the distances of acceptable interaction.
Of course, these groups will need to be able to get to their seats safely from the lobbies. This suggests an outside queue—now a fact of life—which architecture can also start to improve. A timed entrance sequence might also work, especially if you could breeze into your seats without a line.
Once you are in your seat, the movement of air plays a crucial role in experiencing the performance safely. The state-of-the-art method in theatres is displacement ventilation. Cool air is supplied at very low velocity below each seat and rises slowly as our bodies heat the air, to be extracted via the ceiling. It is quiet and energy efficient. This will no doubt become the standard in theatre design going forward.
The backstage and onstage areas need to evolve as well. In a current production of The Phantom of the Opera in South Korea, the first few rows of seats were removed so that the actors' "enthusiastic saliva" doesn't spray on the audience.
Those Korean audiences believe that the systems in place can and will protect them. For that idea to spread, our own architectural systems and social health systems need to work to inspire the same confidence.
Theatres will make a comeback and fully consider the safety and enjoyment of patrons and performers. The show will go on.