National Trust for Canada releases tool kit to help Canadians support Bill C-323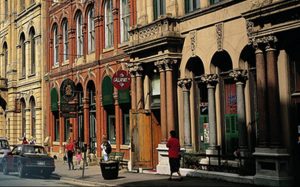 The National Trust for Canada has released a tool kit to help Canadians get historic places on the national agenda.
A Historic Opportunity for Historic Places provides information to urge support for Bill C-323 – An Act to Amend the Income Tax Act (Rehabilitation of Historic Property) – and respond to the Minister of the Environment's national roundtable consultation – Let's Talk Parks, Canada! – launched on January 9.   
"In the thirty years between 1970 and 2000, Canada lost more than 20 per cent of its historic building stock, and losses continue apace," said Natalie Bull, the Trust's executive director, speaking from Ottawa.  "Taken together, Bill C-323 and the Minister's roundtable present an historic opportunity to tell elected officials that Canada's historic places matter, and that federal actions are needed to help save and renew them." 
Tax measures like the ones proposed in Bill C-323 are a proven way to attract private investment to historic places, and give older buildings vibrant new uses. They would transform the economic fundamentals for renewing historic places, with spin-off effects including the creation of more skilled jobs and less environmental impact and waste than new construction.  
Parks Canada has federal responsibility for programs that help protect and preserve historic places in Canada, and the Agency itself falls under the Minister of the Environment, who has a vested interest in keeping heritage buildings out of the landfill in the fight against climate change. 
The National Trust's tool kit is designed to help Canadians who care about heritage places and the environment urge their own MPs and the Minister of the Environment to support Bill C-323 at second reading in the House of Commons, expected in late February or early March this year.  It also encourages heritage NGOs and all Canadians to express appreciation and support for continued funding for the National Cost Share Program for Heritage Places, which provides essential funding for some of the 800 national historic sites that tell our national story – including Indigenous sites – and press for greater federal leadership in the protection of historic places.