Vancouver-based MGA and DLR Group design largest mass timber building in United States
Designed by Vancouver-based Michael Green Architecture (MGA) in conjunction with Architect-of-Record DLR Group, the seven storey office building in Minneapolis' North Loop neighbourhood is the largest mass timber building in the United States.
When Hines approached MGA with this project, they envisioned T3 as a unique model of new-office building; an opportunity to offer a modern interpretation of the robust character of historic wood, brick, stone, and steel buildings with the additional benefits of state of the art amenities, environmental performance, and technical capability. The project is an investment in both the past and future of Minneapolis and in the Warehouse District's rich history.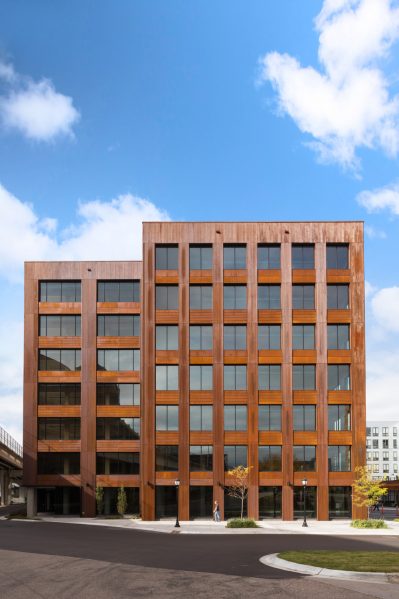 T3, which stands for 'Timber, Technology, Transit', offers 224,000 square feet of office and retail space. Over 3,600 cubic meters of exposed mass timber columns, beams, and floor slabs recall the heavy timber construction of the building's predecessors. T3's modern technological approach uses engineered wood components (chiefly glulam and nail laminated timber) for the roof, floors, columns and beams, and furniture. A significant amount of the lumber used to fabricate the NLT comes from trees killed by the mountain pine beetle. These modern materials bring the warmth and beauty of wood to the interior, and promote a healthy indoor environment for occupants.
As a result of its wood structure, T3 was erected at a speed exceeding conventional steel-framed or concrete buildings. In less than 10 weeks, 180,000 square feet of timber framing went up, averaging 30,000 square feet of floor area installed per week. It is also lighter than comparable steel or concrete structures, reducing the depth and extent of excavation and foundations. Additionally, the embodied carbon in the building's wood structural system is lower than that found in conventional buildings found throughout most of downtown Minneapolis and the North Loop.
T3 is currently the largest completed mass timber building in the U.S. With changing building codes throughout North America, tall wood buildings will become more common. A pioneer in this building type, T3 has broken new ground and is perhaps a prototype for future commercial mass timber buildings.