Homecomings: B2 Lofts, Lunenburg, Nova Scotia
PROJECT B2 Lofts, Lunenburg UNESCO World Heritage Site, Nova Scotia
ARCHITECT MacKay-Lyons Sweetapple Architects
TEXT Donald Chong
PHOTOS Matthew MacKay-Lyons
Located on lands previously inhabited by native Mi'kmaq and Acadians, Lunenburg is widely considered the continent's best preserved planned British colonial settlement. It is best known for its brightly coloured mix of shingle-sided and gabled structures, climbing the steep hillside along the harbour.
These picture-perfect façades form a compact urban setting, built upon a 270-year-old working waterfront. In 1995, Old Town Lunenburg was designated a UNESCO World Heritage Site for its living catalogue of architecture related to 18th- and 19th-century fishing, shipping and shipbuilding. An extraordinary number of its timber buildings were handcrafted by German and Swiss Protestant settlers, and have been scrupulously preserved. While known for being the birthplace of the Bluenose, Lunenburg's advanced shipwright culture produced an array of businesses and accompanying buildings—from foundries to sailmakers, and from cooperages to blacksmiths.
To this day, many of Lunenberg's prime harbour locations continue to be used for the maritime industries, including a scallop fishery, a millwright's shed, and a dory building shop (for the local cod-fishing boats originally deployed from schooners at sea).
Rigorous heritage conservation is the starting point for any architectural intervention in this milieu. So it is particularly interesting to examine a new project in the heart of Lunenberg, developed and designed by MacKay-Lyons Sweetapple Architects (MLSA).
"Laurel and Hardy": Partnering and Infill
At first blush, B2 Lofts is a simple pair of structures on the well-travelled (and largely gentrified) Montague Street, the town's southernmost thoroughfare. Look more closely, and it reveals itself as a spirited architectural duo of forms—a pleasantly balanced "Laurel and Hardy" pairing.
A new addition to the east is slender and nimble, adorned in dory-yellow paint and weathering cedar. To the west is a finely refurbished nineteenth-century gabled commercial building—stoic, stout and rendered in charcoal tones. All told, this combination of two ostensibly separate buildings on a compact lot yields a rich mix of programs: six residential units shared between the two sides, a small retail unit, and a full-depth double-fronting space that currently houses MLSA's Lunenburg architectural studio.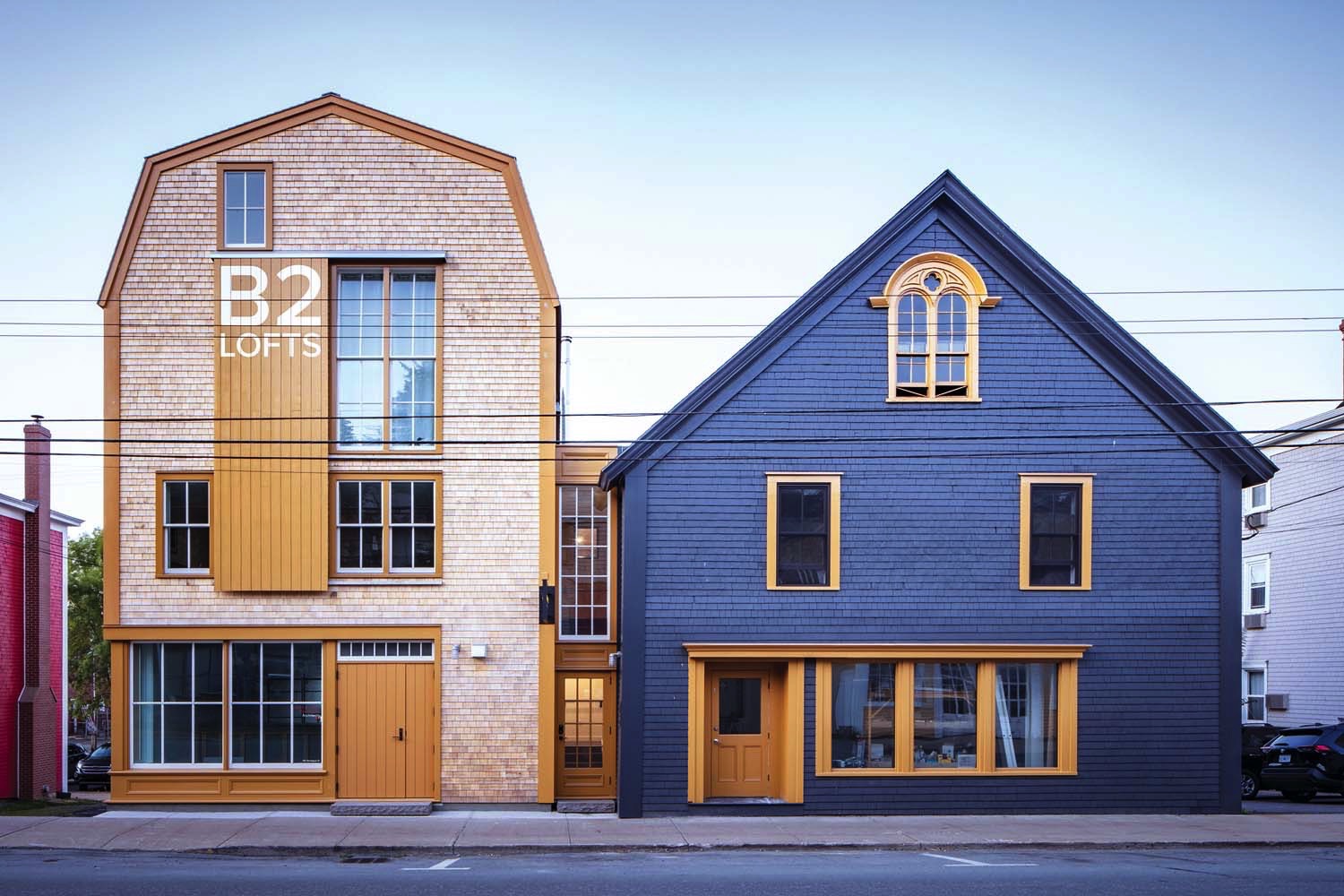 Syntax and Strategy: Trim Modernism
The most striking aspect of B2 Lofts is its confident and unapologetic embrace of Lunenberg's architectural vernacular. Double-hung windows, wide-boarded corners, painted trim boards, panelled wood doors and articulated bargeboard details are all gracefully deployed—and, as if with a gentle wink to those who are attentive, with seemingly modern sensibilities.
The brevity and resulting dexterity with which B2 Lofts works within its constraints offers a prototype for Lunenburg and beyond. Without pretension, the project asks what it takes to remain contemporary and progressive in a highly-scrutinized, protected and well-loved historical town. Such circumstances could easily lead to acritical, rote and nostalgic references from a disconnected past. Here, however, we are witness to a present-day builder's hand, evidently synchronized with architects who are not the least bit unnerved in this historic setting with its preference for a local architectural language.
One begins to regain a certain respect for a traditional language that is naturally deep in its repertoire of go-to conditions, yet materially robust enough to accommodate tolerance, incremental change and future-proofing. B2 Lofts prompts a sincere, refreshing and long overdue salute to pre-modern architectural detailing, with its proven resilience and intelligence.
Type and Town: Utility, Toughness and Circumstance
First and foremost, this project is about clarity of type. B2 Lofts respects its Montague Street context, with its historic mix of gabled and gambrel-roofed typologies. The gambrel top of the new addition side allows for a tidy, narrow massing that maximizes height within the narrow lot. Paired with the existing building, the infill offers an inconspicuous presence that succeeds in re-anchoring the street.
Contributing to the background as much as the foreground aligns with the project's persona: it blends while being bold. It's both a quiet contributor, and an active participant. This humility is a virtue befitting for a modernist studio applying heritage language onto a succinct and efficient pair of recognizable building forms—reminiscent of Giorgio Morandi's Swiss paintings of "pure type" rural buildings or Heinrich Tessenow's honest and modest typological approach to architecture.
The playfulness in the façade's apertures gives the sense that the composition is circumstantial, rather than curated, in line with the characteristics of heritage detailing as well as the solid-to-glazing ratio and rhythm of neighbouring buildings. The contemporary take on barn doors, too, takes on a weathered "batten-down-the-hatches" appeal, appropriate to the harshness of the North Atlantic seas.
The buildings share a single crisp, cruciform circulatory set-up, with double-egress stairwells at grade in the north-south axis, and four sets of single-run stairs in the east-west axis starting from the second floor. This pays off with a generously lit interstitial space, nesting between the west and east blocks. From the street, the space acts as civic-realm reveal, and provides natural, unimpeded residential entry points to the upper level units from either street. This careful typological detail allows the two buildings to command independent street-level storefront presences, smartly in keeping with the character of Montague Street. At grade, one can also access the only street-level residential unit, with its grand garage double-doors and a cleverly integrated standard-sized door.
Maritime Frugality: Snug-fit, Well-packed
Heading upward to the five loft units, one is rewarded with generous views to the harbour and town. In the new structure, a complement of vaulted spaces, finished in white, includes a cheerful cascade of unabashed structural hot-rolled tension members which, as the architects put it, create a "weblike" space that nods to Andy Goldsworthy. In the renovated building, the original timber-lined space feels akin to the inside of a cooper's aged barrel. Among all of the units, a well-packed arrangement of galley kitchens, bathrooms and single-flight stairs admirably acknowledges the original intent of this type of building: to maximize space, daylight and views from both gable ends. The units in the new building, in particular, squeeze utility out every part of the space by including a delightful upper bedloft—yet one more nod to the frugal and wise Lunenburg way.
Building as Civic Instrument
Perhaps unwittingly, the B2 Lofts touch on a key issue in Lunenburg: the rapid decline of affordable housing. The town's original single-family homes are now occupied by far fewer people than a century prior, and are further pressured by a trend for more seasonally occupied homes. As a result, the available year-round bed-spaces have diminished while housing prices have escalated. In this evolving context, B2 Lofts could pose an interesting and progressive opportunity to volley between short-term rentals and long-term options.
B2 Lofts suggests how architecture ought to position itself generationally, irrespective of its originating program or pro forma. It remains to be seen, decades from now, how this building may change, adapt, and outlive its first intended use. Altogether, one would hope that the astute combination of resilient typologies, smart urbanism and robust detailing imparts a lasting maturation and elegance—which ultimately cradles a future yet unknown, but ready to be embraced.
Evolutions and Progress: A Galápagos Moment
Lunenburg is a fitting place for B2 Lofts, with its ability to tweak a mixed-use building archetype within a compact urban setting. With every small gesture or nudge to its architecture, Lunenburg serves as, quite possibly, a perfect testing ground. It's a Galápagos Island of sorts, with a manageable sample size and an in vivo civic laboratory to witness reaction, response and perhaps positive change. This is, arguably, architectural evolution at its best.
Toronto-based architect Donald Chong is a Design Principal at HDR. He has relatives who live in an Old Town heritage home in Lunenburg.
Did you find this article helpful? Please consider signing up for Canadian Architect's FREE digital edition and weekly e-newsletter. Your support is a big help to us, as we work to continue reaching readers during this challenging time.