Farrow Partners develops Grip Timber CLT blocks for quick-assembly ICU wards
Canadian-based Nucap Industries and Farrow Partners has developed a state-of-the-art CLT building block that can be rapidly assembled into temporary healthcare facilities for treating COVID-19 patients. The team says the solution is "faster, cheaper, smarter, safer, more adaptable—and importantly, healthier" than current rapid-response healthcare facilities, helping to improve outcomes for medical staff and patients alike.
The team dubs the design "Solace" from the Latin verb solari'—to comfort, calm and soothe one's grief—through listening to music, for example, or in the company of good friends. How could a physical space achieve the same outcome for those caring or healing, under very difficult conditions, the team asked.
The solution is based on the Grip Timber Cross Laminate Block (GTCLB), a construction block similar in performance properties and strength to a concrete block. Made of offcut pieces of wood, it is significantly lighter than concrete and non-brittle to shattering. Instead of using glue, the small wood pieces are bound together mechanically with thin strips of a proven technology called Grip Metal.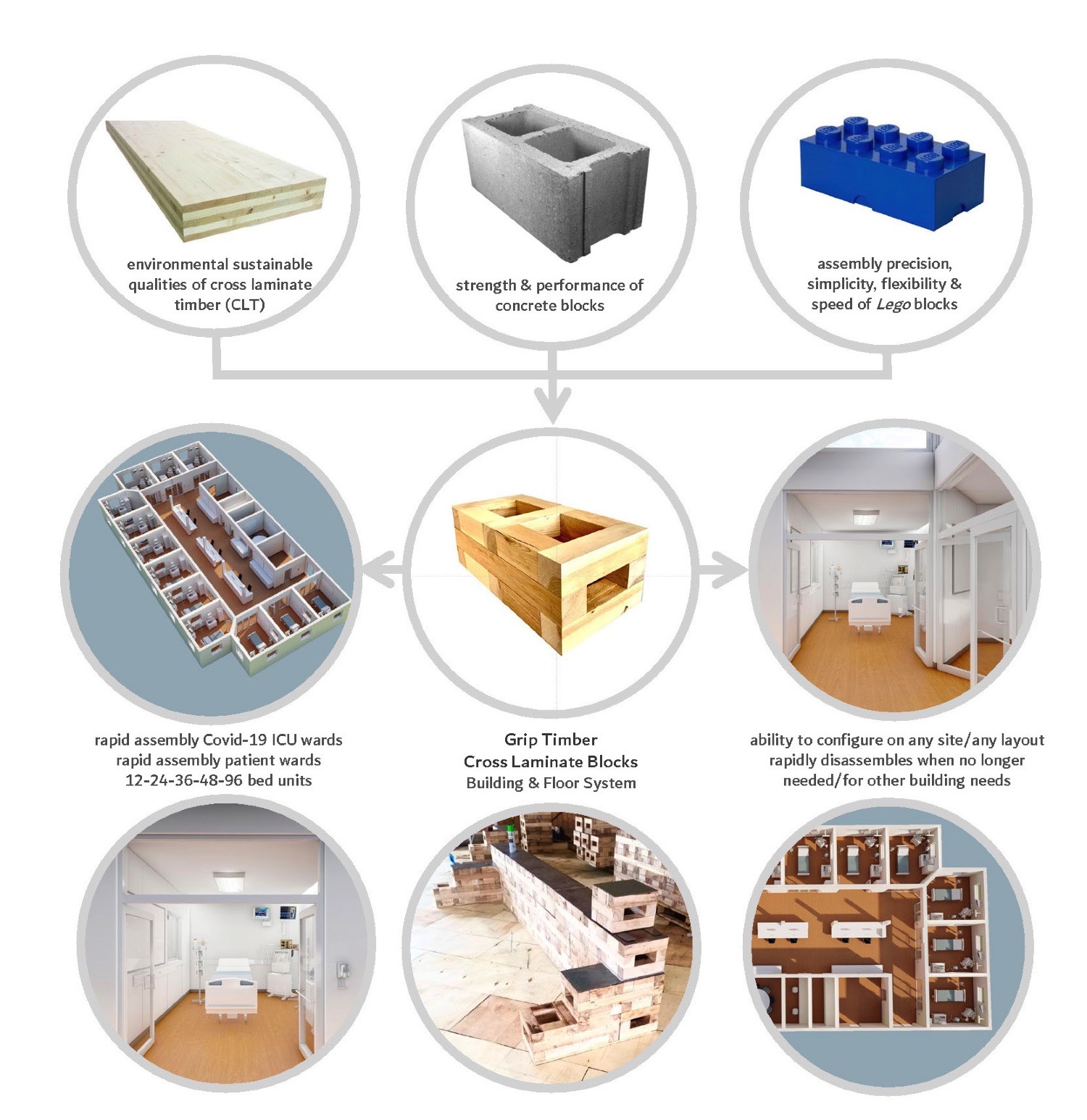 Grip Metal is a patented mechanical bonding system that evolved out of the process of binding car brake pad metal saddles to the fibrous material that engages the disc brake surface. Brake pads were previously glued to the disc brake surface, a situation that could result in dangerous situations if the glue failed. Nucap's innovation was to create a Velcro-like surface on the metal surface equivalent to hundreds of small hook-like connections between the surfaces. Nucap has produced or licenced one billion brake pads with zero failures: an impressive achievement for a car part that is exposed to extreme changes in pressure, temperature, moisture and salt conditions.
In the Grip CLT blocks, the small wood elements are bonded with strips of Grip Metal, then processed in a pressure stamping press which applies 200 tonnes of pressure on each wood block. The process takes three seconds of pressure, allowing the Nucap facility to fabricate a thousand blocks an hour.
The resulting blocks can be assembled into walls and columns that are similar in performance and environmental properties to cross-laminate timber (CLT) floor and wall systems. They also share similar char characteristics as CLT from a life safety perspective.
Grip Metal strips are also applied to the top and bottom of the blocks, allowing them to be quickly assembled by hand, in a process similar to stacking Lego blocks.
"Over the last week we have built a full-scale mock-up in a horse riding stable outside of the city," says design lead Tye Farrow. "I lifted some of the blocks in place; remarkably simple. A service club like Rotary or high school students could assembly these with ease in their communities." He estimates that a single unskilled person can assemble the structure of one inpatient bedroom in thirty-five minutes.
The Grip Metal connection creates a bond between blocks that resists massive horizontal and vertical forces, similar to a concrete block assembly. Once the blocks are stacked, a vertical tie rod is tightened at the corners of the room, enabling the wall to resist impact and uplift forces. "We backed a huge forklift into it and it didn't budge," says Farrow of the mock-up.
As a result of the blocks' structural strength characteristics, the rapid assembly walls can support wall-mounted medical device loads. The blocks also have internal cavities, like a concrete block, allowing mechanical or electrical services or conduits to be run within the walls. As the blocks are in ten inch (254 mm) modules, rooms can be sized to any shape and size—a versatility lacking in shipping container inpatient solutions, which don't allow for staff access to all sides of beds due to limited room dimensions.
The team has also developed a sister flooring system that binds together thin layers of eighteen-inch-wide, fifty-four-inch-long Grip Metal panels with layers of a composite infection-resistant surface material, creating a floor with the strength and load-supporting properties of concrete. The system can be applied directly on sand, soil, old concrete, or asphalt—such as over a hospital parking lot—to create a waterproof, level, load-bearing surface to support the structure above without the need for footings or foundations. The floor system also includes a low tech radiant heating and cooling system placed directing under the assembly.
The proposed ICU wards made of the Grip CLT block walls and floors hold twelve beds and a central medical team work area, in a 15-metre-by-30-metre  space. Multiple wards could be paired with common access corridors. The inpatient rooms have a similar design to current ICU hospital rooms, with patient beds accessible from all sides. Clerestories provide natural light and views throughout the ward.
The ward is wrapped on the exterior of the unit by an enclosed, environmentally controlled 2.4-metre-wide logistics corridor that houses all mechanical, electrical and medical gases. The equivalent to a vertical interstitial space, this allows building staff to access and modify systems in the space without any interaction with the patient areas within the unit.
Fresh air is fed from the public corridor side through HEPA filtration and exhausted in the logistics interstitial corridor, creating negative pressure to contain the airborne spread of the virus.
"Medical staff are enriching the oxygen for COVID-19 infected patients, which allows their lungs to function at a higher level, increasing the chances of a better outcome," says Farrow. "Rapid assembly COVID-19 patient bed environments likewise need to be 'enriched' if we are to achieve better outcomes for patients—and importantly, to also help medical staff, allowing them to work to their best under some of the worst medical conditions imaginable."
Farrow hopes that the technology of Grip Metal blocks will also find other applications, beyond the immediate needs of the pandemic, "The collective hope is that it'll be a great product for everyone in our industry, and for people to take it and add to it." Moreover, in contrast to standard CLT, which was largely developed in Europe, it's a true made-in-Canada solution—"a first coming out of this country."