Ewa Bieniecka, FRAIC, inducted as 78th President of the RAIC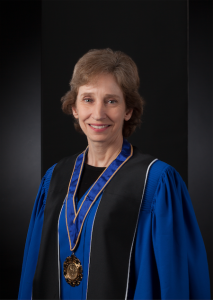 Ewa Bieniecka, FRAIC, a Montreal architect specializing in conservation and restoration of heritage buildings, was inducted as the 78th President of the Royal Architectural Institute of Canada (RAIC) at a formal ceremony on Monday.
About 90 guests attended the investiture ceremony at the Canadian Museum of Nature in Ottawa. The keynote speaker was Marie-Josée Lacroix, head of the Design Montreal Bureau, a City of Montreal agency that works to improve design in the city and enhance Montreal's status as a UNESCO City of Design.
Guests included RAIC members, the RAIC board of directors, representatives from government, universities, organizations with interest in the built environment, and allied professionals.
"It is time to reflect on how ideas about the built environment become widely accepted and ingrained in our culture," Ms. Bieniecka said in her investiture speech. 
She observed that Expo '67, the world's fair held in Montreal in 1967 and famous for its architecture –  left a lasting impression on her and is regarded as a major national achievement. "Expo 67 brought architecture, art, design and technology together," said Ms. Bieniecka. "It was an event that left behind a significant material and imaginative legacy to Canada's culture." 
Fifty years later, "as architects, we must continue to investigate the relationship between architecture and the culture that shapes and is shaped by it," she said. "We will work together to demonstrate that architecture is at the service of the well-being of people; that it awakens the senses, and stimulates the imagination." 
In her keynote address, Ms. Lacroix said that design is central to a city's image and how it works. "In this respect, cities have a duty to ensure quality and exemplary design in all their initiatives on public property," she said. "Beyond this duty, they can make themselves much more attractive and competitive at a time when there is tremendous rivalry to attract investment." 
The Presidential Citation was delivered by Renée Mailhot, MRAIC, a co-founder of the Montreal architecture firm La SHED which in 2016 received the RAIC Emerging Architectural Practice Award.
Ms. Bieniecka received the President's Medal from the 2016 President Allan Teramura, FRAIC, of Ottawa. During his tenure, Mr. Teramura was instrumental in establishing the RAIC Indigenous Task Force, which is planning the first International Symposium on Indigenous Architecture and Design. It will take place May 27, 2017, in Ottawa, and is attracting delegates from Indigenous cultures in Norway and New Zealand, among other countries.
"I will continue to build and support this and other programs such as the Committee for Responsible Environments, Aging-in-Place task force and the Emerging Practitioners group," said Ms. Bieniecka. "We are well positioned to address today's increasing priorities: the environment, health, and sustainability."