Design Exchange exhibition examines how design imitates nature's models
More and more, designers are looking to nature for responsible design solutions, which has been fuelled by innovation in technology. Until April 28, Design Exchange will host Evolution, an exhibition by Toronto curator Sanam Samanian that examines how biomimicry – the design of products, services, and systems that imitate nature's models – has given new rise to design thinking.
This exhibition invites visitors into a multisensory, imaginative environment that responds to present-day issues that are affecting design practitioners through a survey of products, things, and solutions. Get up close to experience Mahtab Oskuee's intricately crocheted curtain embedded with responsive sensors; be awed by Brent Cordner's new honeycomb-inspired architectural material; and have your mind bent by the interactive architecture of Philip Beesley (who has collaborated with the acclaimed Iris van Herpen). Plus, see contributions by Fugitive Glue, Mesh Cities' Robert Ouellette, and Design Tennis.
"The practitioners of design are realizing that the use of natural principles and the evolution of natural systems could be a critical source of guidance and wisdom for the future of the practice of design and architecture. Inspired more by biological than the technological concepts, some designers are beginning to look more and more to nature for responsible solutions." says Samanian, the former Toronto Design Offsite executive director and curator who has worked with such firms as Sweeny&Co and Hariri Pontarini Architects, as well as contemporary artists such as Hoda Zarbaf and Maryam Keyhani. "However, I remain mainly curious about the role and impact of human intelligence in this process."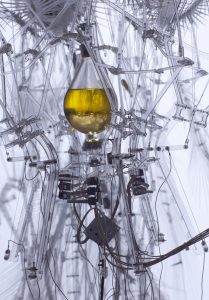 Visitors will explore how Canadian designers take a closer look at the naturally inspired paradigms, such as biomimicry, and examine their role and influence in the evolution of design and how they are creatively solving man-made issues and conflicts through design informed by nature. Evolution asks, what is the future responsibility of the designer? How are designers evolving in response to rapid technological advancements? What role does nature play? And, finally, can human intelligence design better than nature?
"The marriage of tech and nature is a rapidly evolving design story that we are eager to share. What's more, there is significant potential for innovation through exploration of biomimicry and we have an opportunity to showcase how some Canadian designers have addressed it," says Shauna Levy, DX President and CEO.
For more information, please click here.