Edmonton Convention Centre gets a poetic update with Canada's largest BIPV system
The update of Edmonton Convention Centre's iconic multi-level atrium that follows the slope of Edmonton's river valley is nearing completion. The update includes Canada's largest building-integrated photovoltaic system. The 35-year old skylight modernization, designed by DIALOG, makes a statement about the Centre's sustainable ambitions and includes a poetic message for visitors of the Centre and the river valley. 
The pattern of the cells opens up to a circular oculus with lines of Morse code that spell out a poem. It is an excerpt of Gifts of a River by E.D. Blodgett, a former Edmonton Poet Laureate, that reads: 
BEGINNINGS JUST APPEAR
SO LIKE A DROWSY EYE 

SUDDENLY AWAKE
WHERE A RIVER WELLS UP 

UNCOILING FROM THE ICE
WHERE SNUG BESIDE THE LAND 

IT LAY DREAMING AT
OUR FEET IN QUIET SLEEP 
The poem is legible from left to right within the atrium, but the visual appeal extends outside and across the valley.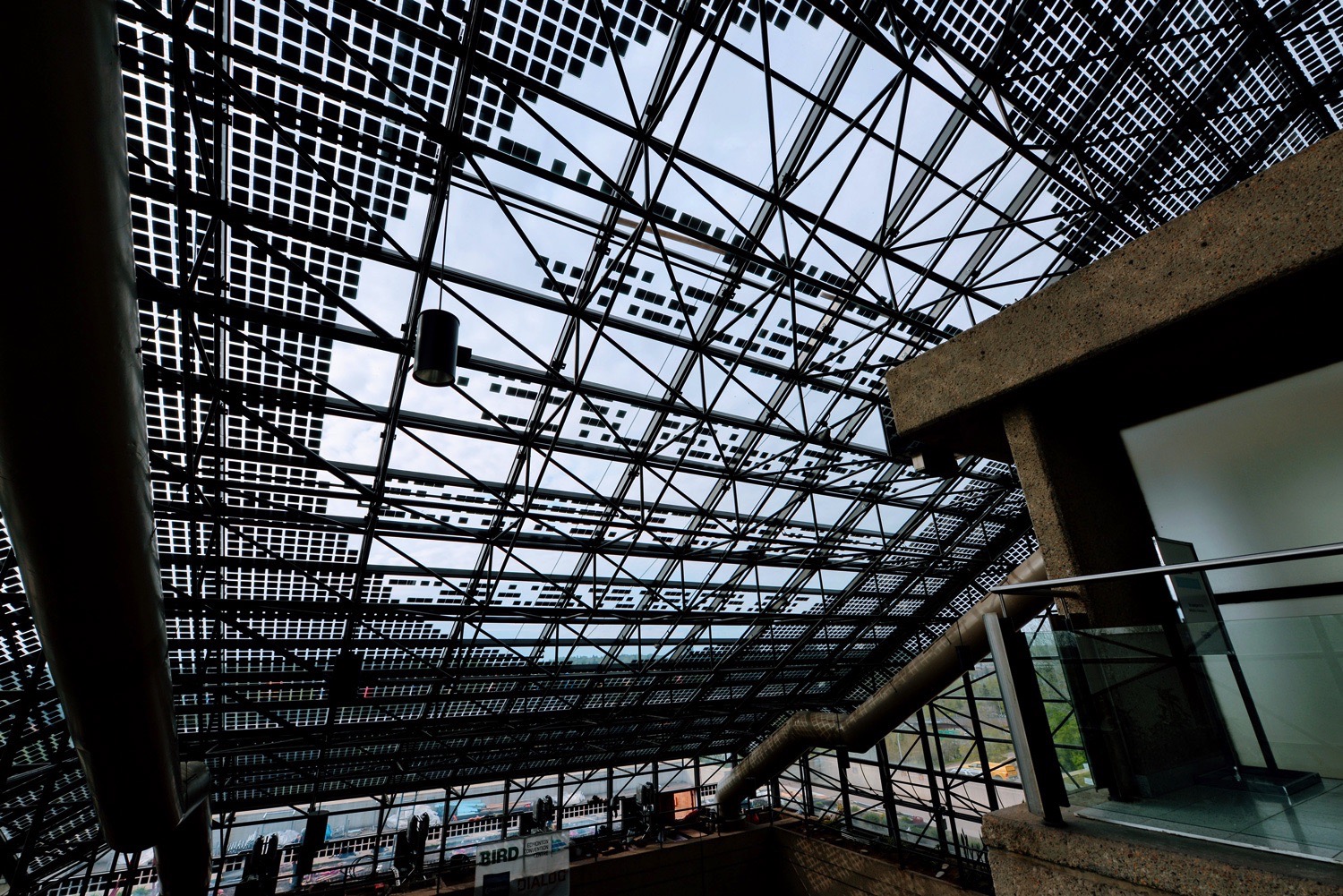 The new solar cells will convert sunlight into clean electricity while maintaining the transparency of the Centre's current glass atrium. All 696 sloped panels on the atrium have been replaced. Even with the PV cells covering approximately 50% of the surface, more light is getting through to the atrium compared to the previous tinted panels.  
"Not only does the installation help position Edmonton as an attractive destination for sustainable events, it encouraged us, our clients and our guests to set loftier goals that support the future of our industry and environment," says Melissa Radu, Sustainability Manager of the Edmonton Convention Centre .
It is estimated that more than 200 Megaatt-hours of electricity will be generated each year and that the panels will reduce anticipated greenhouse gas emissions by over 150,000 kg. 
"The installation of the integrated solar PV system demonstrates true leadership and the City of Edmonton's commitment to a sustainable future," says Donna Clare, DIALOG Principal and Architect. "We're excited to see this unique and important transformation of the atrium glazing come together. The poem provides Edmontonians delight to decipher during their river valley walks this summer."