Editorial: Building Capacity
In the midst of the COVID-19 pandemic, a few construction sites in Canada are ramping up: those that expand the capacity of the healthcare system.
The possibility that healthcare facilities will be stretched past capacity inspired Integral Group's Kenny Smith to organize a think-tank for a Canada-specific design solution. "I felt there was something we could do proactively as an industry and as a community," says Smith, who put out an open call for participation on LinkedIn. Some 70 people responded—architects, engineers, healthcare professionals, infection control specialists, fabricators. Over the span of a week, they put together a ready-to-implement plan to adapt hockey areas into temporary hospitals.
"We realized that there was a global response based on repurposing large spaces such as conference centres," recalls Smith. Based on insights from their healthcare specialists, the team realized that there was a need for "a smaller option that could be phased into use." They quickly came to the idea of using ice arenas: "It's an archetype—they're everywhere in Canada," says Smith. The team focused on creating a single design for a typical arena that could be easily adjusted, deployed and replicated.
Their plan accommodates some 100 beds per ice pad, with each bed housed in a pre-fabricated pod with power chases and an air exhaust system located near the head of the bed. The design uses a standard arena's entrances and exits (including its Zamboni door) to create safe circulation paths for patients, professionals and the movement of supplies.
Testing—and the eventual administration of a vaccine—is also a pinch point in the system. To address this, a team led by WZMH Architects worked with collaborators including Parkin Architects and PCL to design a portable, pre-fabricated, virus testing centre.
The resulting design is a retrofitted shipping container that can accommodate two to four test stations, as well as safe areas for healthcare workers. The fully conditioned space comes complete with low-voltage power infrastructure, Wi-Fi, rooftop solar panels and an internal battery system. The team has designed four variations of the portable testing centre, to accommodate various situations from walk-up to drive-through testing.
"The solution is one that can be stored and deployed every year during the flu season, for testing and administering the vaccine, or in the event of future pandemics," writes the design team. The designers hope to move the units into production soon, to help meet the demand for increased testing.
Farrow Partners has pivoted its existing materials research towards building ICU-grade temporary healthcare units. For the past three years, Tye Farrow's team has been working with Nucap Industries to adapt its technology—a mechanical method for adhering automotive brake pads—to the buildings sector. They've now created a cross-laminated timber block faced with Nucap's Velcro-like metal pads. The result: quickly assembled construction blocks with comparable pricing and performance to standard concrete masonry units, that can be assembled into temporary hospitals and disassembled after use.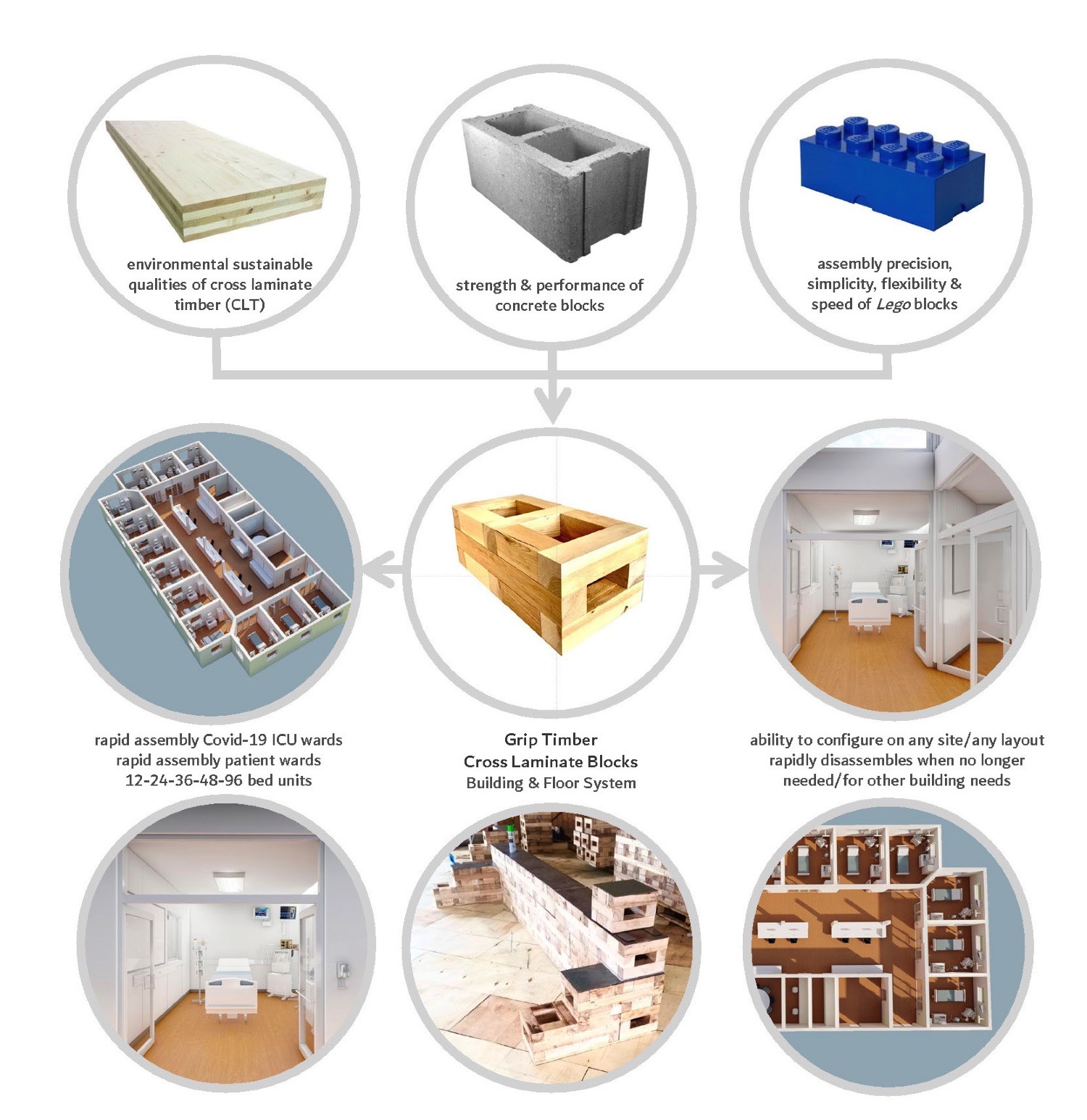 Farrow says that the buildings can come together as quickly as off-site modular solutions, but offer a higher-quality environment, including sufficient space for intensive care equipment and care. "Staff are working for twelve hours a day and they're beat," says Farrow. "Not only can we provide a space that's fast [to assemble] and effective, but has significant positive impact on staff and patients, beyond just addressing the bare basic needs."
"Over the last week we built a full-scale mock-up in a stable in King City, using the [Nucap] floor and wall system on a dirt floor," says Farrow. "We then backed a huge forklift into it and it didn't budge." Nucap is retooling its manufacturing machinery to mass-produce the blocks for use in the coming weeks.
Meanwhile, the imperative for physical distancing seems to be having good effects in flattening the curve, and the current numbers of people testing positive for COVID-19 in Canada is slowing. In the best-case scenario, it is possible that alternative healthcare facilities will not be needed.
But regardless, these initiatives could influence not only how we construct, but also how architects work together post-pandemic. "We're so used to competing," says Kenny Smith of Integral Group. "By doing this, it brought down barriers and gave people the opportunity to apply themselves in an open, trusting environment. Everyone had valuable input: it was a proper community response, that genuinely came from everyone as a community."