Design unveiled for Mississauga's tallest building designed by CORE Architects
Soaring 60 storeys from the corner of Burnhamthorpe Road and Confederation Parkway, M City's flagship tower will emerge as the defining landmark of Mississauga's downtown core and the city's tallest building. The first of 10 towers in a $1.5 billion, master-planned community, M City will leave a mark on Mississauga's skyline in both scale and design, further burnishing the reputation of a city that is rapidly urbanizing.
"Mississauga has reached an inflection point and we recognize that we have a significant role to play in how this city continues to evolve," says Edward Rogers, whose family's private holding company, Rogers Real Estate Development Limited, is the owner of the project. "This is a once-in-a-lifetime opportunity to play an active role in shaping the future of a city."
Urban Capital Property Group, a boundary-pushing developer, was selected to lead the development of the first phase of M City, having first assisted Rogers Real Estate Development Limited over the past several years to win the City of Mississauga's approval of the master plan for the whole 15-acre community.
Conceived by CORE Architects, who won a design competition for the project, M City's undulating geometry results from a unique application of seven floor plates that twist the building as it rises. It's a continuation of a new era of design that was first introduced to Mississauga with Absolute Towers.
"Mississauga's ambition served as our motivation. The city is carving out a special portion of Burnhamthorpe Road that houses Celebration Square, The Living Arts Centre, Square One and the LRT, and turning it into a memorable downtown core. We wanted to address this nascent urbanism, recognizing that M City plays a vital role in the formation of an urbanized centre," says Babak Eslahjou, who is leading the design team on behalf of CORE Architects.
Each of M City's seven typical floor plates take turns skewing to each extreme as the building rises, stacking in a repetitive pattern. The non-rectangular geometry creates the impression of fluid movement and lightness of mass, leaving a striking presence on the Mississauga skyline.
"M City's tower will be instantly recognizable, but equal attention and care was given to the podium, which anchors the project. Not only does the podium enable the lifestyle component of the building, but it defines how this and future phases interact with the streetscape and the fine grain network of blocks that characterize the master plan," says Mark Reeve, partner, Urban Capital Property Group.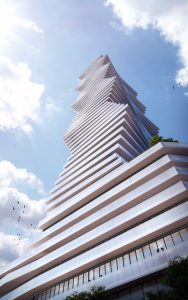 Faceted glass walls designed by CORE Architects introduce a prismatic shape to the podium, accommodating a large rooftop amenity space. Retail at grade is a primary draw for active street life, which is augmented by over two acres of public parkland, providing a solid foundation for a vibrant community.
All amenities, common areas and suites for the project were crafted by the award-winning interior design firm Cecconi Simone, who drew inspiration from the architecture's fluid form and dynamic geometry.
"It was important that the interiors and amenities achieved the same attributes as the architecture:  fluidity, movement, excitement. The amenities flow from interior to exterior and the spaces are not simply square or straight but are sculpted in angular planes defined with different materials. Floor finishes wrap up walls, planes are folded and twisted, sunlight and artificial light are manipulated to enhance the spaces," says Elaine Cecconi, partner, Cecconi Simone.
On hot summer days, families can cool down at the kids play zone and splash pad or poolside on chaises under umbrellas. In the winter, the amenity terrace transforms into a rooftop skating rink. Interior amenities include a chef's kitchen and dining room, small and large lounges, a kids' lounge with games and play zone, gym and yoga/spinning rooms.  Spaces can be compartmentalized for private functions or left open for optimum flexibility.
All suites are efficient and highly livable, planned with the resident in mind. Urban, chic designs offer streamlined kitchens that are sleek and clean with integrated appliances and custom designed cabinetry. "An iconic project of this caliber would find success in any urban centre in any country," says Reeve. "From the striking design to the sophisticated interiors, and our future-proofed approach to integrating technology, we are raising the bar with each facet of this project."
"This new development was inspired by the City of Mississauga's Downtown 21 Plan and is part of our efforts to build a complete city – a place where people can live, work, earn an education and enjoy an unrivalled quality of life – all within their city," says City of Mississauga Mayor Bonnie Crombie. "This new community will be plugged into our growing regionally-integrated transit network that will include the new 20 kilometre, 20 stops Hurontario Light Rail Transit and our extensive MiWay bus transit network that runs through the heart of Mississauga's emerging downtown."