Call for speakers for the 2017 World Design Summit and Congress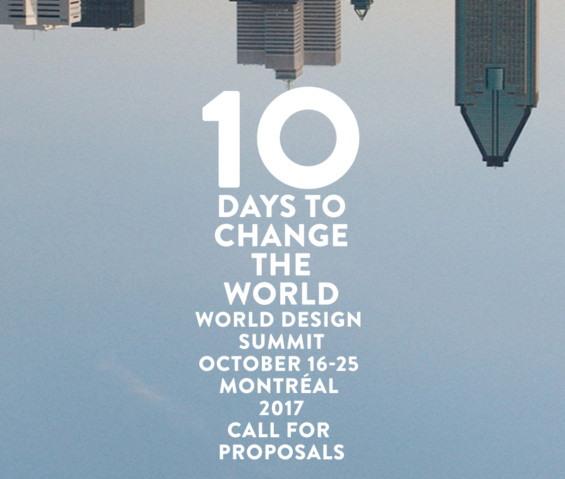 Architects, interior designers, graphic designers, industrial designers, landscape architects, urban planners and members of the international design community are invited to take part in the World Design Summit Congress in Montréal, Canada, from October 16-25, 2017.
The Summit's theme is both an invitation and a challenge: 10 days to change the world. The design disciplines shape economic, political and cultural decision-making and directly affect how people live, work and play.
What are the ideas that will allow design to reinvent the future? How does design in all its facets respond to the great issues of our times? These are the main questions that will drive discussions during the Summit.
The Call for Speakers was launched last week before representatives of 54 countries by M. Alain Dufour at the IFLA World Council Meeting in Torino, Italy. It encourages presentations and papers that promote collective and participative conversations on the value of design and its capacity to help bring about a better future. The coming together of the various disciplines is greatly encouraged.
The Summit is looking for presentations and projects aligned with the following six transdisciplinary themes:
Design and participation: democracy, collaboration and culture
Design for Earth: beyond the human/nature dichotomy
Design and beauty: quality of life, well-being and ethics
Design for sale? consumption, commodities and the common good
Design and transformation: changes, territories and networks
Design and extremes: climate, politics and migrations
These themes intend to open discussions on the existing state of design, as well as to lead towards new perspectives, new paradigms and new solutions.
The deadline to respond to the call for speakers is Friday, July 29th, 2016. For more details and to submit a proposal, visit www.worlddesignsummit.com.