The Buildings Show: Call for 2017 Speakers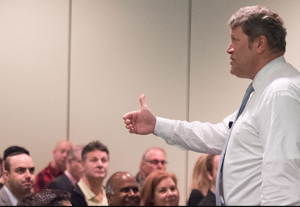 Influential buyers and decision-makers of the design, construction and real estate industries will attend The Buildings Show from November 29 to December 1, 2017 to experience more than 350 seminars and demonstrations, delivering the very latest in products, technologies, best practices and applications.
The Buildings Show is accepting applications until May 1, 2017 for those interested in participating in the education program as a speaker. Submissions will be evaluated on industry relevance, practical applications of material, timeliness of topic, education credit potential and speaker qualifications. The content must be non-commercial and original, pertaining to the following categories:
Building Envelope Solutions
Green Buildings, Environment and Higher Performance
Legal, Regulatory and Risk Management
New Technologies and Innovations
Optimizing Buildings Performance and Asset Management
Project Design, Delivery and Best Practices
Project Planning, Management and Best Practices
Case Studies of Interesting Buildings
Preference will be given to speakers who can present new and innovative content to a broad audience. There is no minimum level of title or qualifications for speakers, although the majority of accepted speakers tend to be senior-level professionals. For more information, click here.