November 23, 2015
by Elsa Lam
The Saul Bellow library, designed by Chevalier Morales Architectes, opened this fall in Montreal. The design was commissioned following an architectural competition in 2011. It involved expanding, redesigning and updating the 1974 Lachine borough library. Architects Stephan Chevalier and Sergio Morales transformed the out-of-date facility into a 21st century library: an attractive, luminous and socially stimulating space.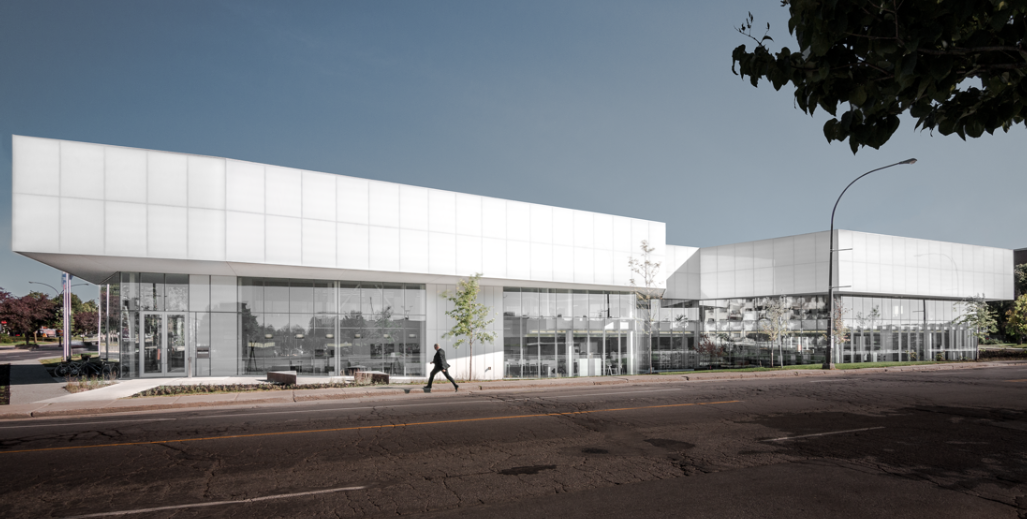 At the onset of the project, Chevalier and Morales imagined what the library and its neighbourhood could become, in 20 years, if the densification, greening and transportation improvement principles envisioned in the broader urban plan were implemented. What would happen to the library, its parking lot and Patterson Park? The firm tried to contribute to the enrichment of these principles by proposing possible solutions for the year 2031.
Imagining possible futures allowed the firm to propose solutions that, in the long term, would reduce costs and environmental impacts. For example, windows and skylights were strategically positioned to take into account a foreseen potential expansion. The 21st century library is imagined as a hub for a dense and dynamic area where a rich mix of daily activities occur.
As an "ideas store", the library benefits from the traffic through neighbouring commercial spaces by positioning itself along frequently used routes. The positioning of entrances to the library—including one close to the café—supports the integration of the library in residents' daily walks. Adding to the centrality of the café, it is now possible to eat and drink in all areas of the library, and the café's patio extends onto the intersection.
Although its purpose has quickly evolved in recent years with the arrival of new technologies and the evolution of librarian's traditional roles, the loan counter (greatly reduced in size) remains a focal point of the library as a privileged interaction location. The loan counter is positioned on the main level, in the heart of the building, allowing it to be visible from all areas. It becomes a central pivot at the bottom of a gentle gradient ramp, in front of the café, close to vertical circulation and to the youth library entrance. As a whole, the library consists of multifunctional, well-adapted spaces that create an impression of accessibility and openness.