Environmental Sciences Building opens at University of Toronto Scarborough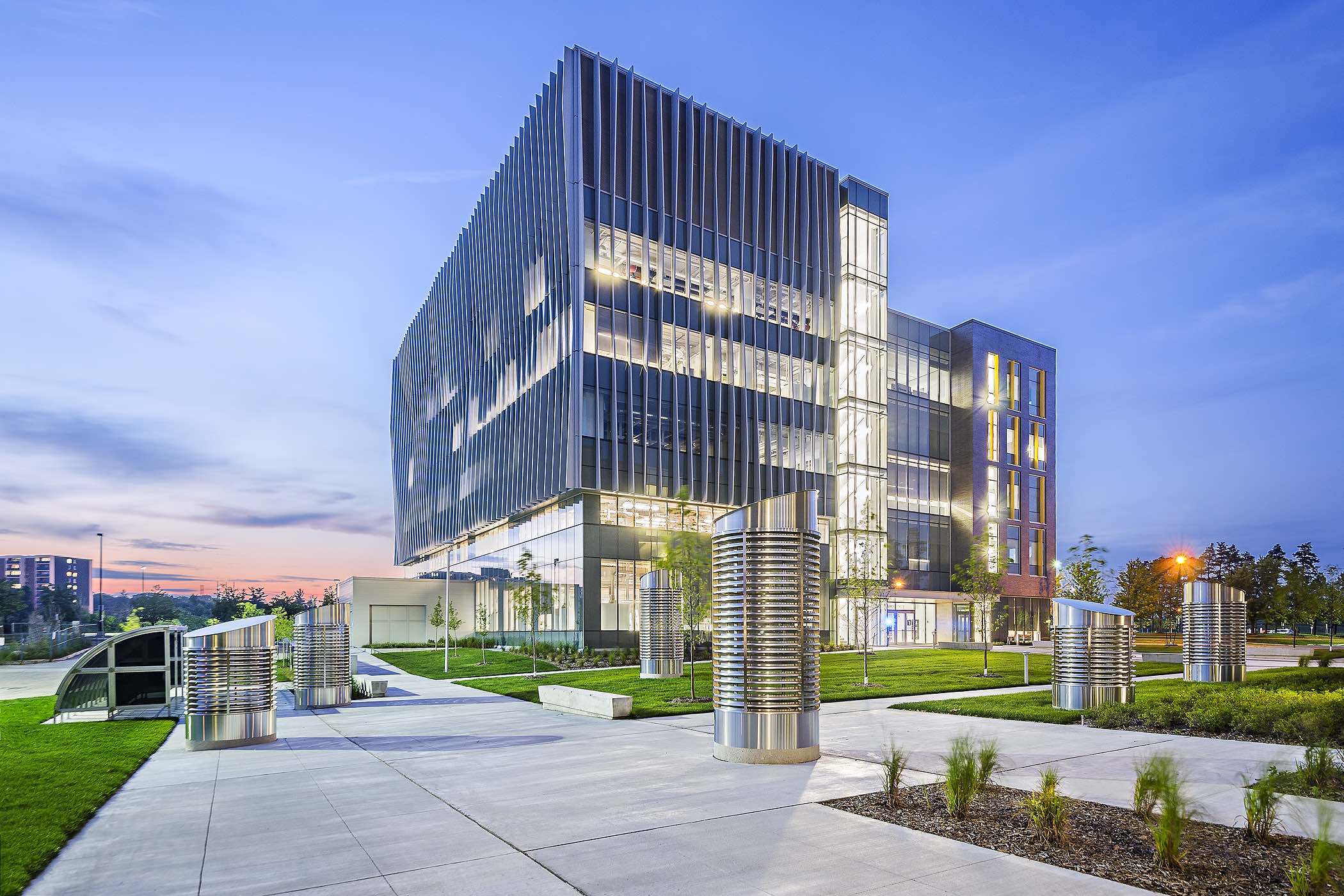 An innovative new research and teaching facility for the study of environmental sciences and chemistry opened officially last week at the University of Toronto Scarborough.
Designed by Diamond Schmitt Architects and delivered with design-build construction partner EllisDon, the 110,000-square-foot building provides state-of-the-art laboratory and teaching space for some of Canada's brightest new minds. The project is a showpiece for integrating the requirements of a modern and dynamic post-secondary academic campus plan and meets institutional objectives for stringent sustainable design targets. The facility also features collaborative learning opportunities while providing flexible lab space that ensures adaptability for the ever-changing nature of research and teaching methods.
"The building is designed to be a model of new thinking in laboratory design – open, transparent, flexible, adaptable for lab usages as yet unimagined, not to mention providing a safe and secure work environment for students and researchers," said Donald Schmitt, Principal, Diamond Schmitt Architects.
At its core, the five-storey building connects laboratories and academic offices around a skylit forum and crossroads designed to encourage collaboration and exchange. Thematically, the Environmental Science and Chemistry Building is inspired by nature to reflect not only the academic pursuits of these disciplines but also its setting on the edge of a wooded ravine. This connection extends to a host of sustainable design features that put the facility on track for LEED Gold certification. These include a rare feature—an earth tube system that draws fresh air through six large tubes where it is pretreated just below the frost line to heat or cool, depending on the season, before entering the mechanical system.
The building's ventilation system pre-heated air from the earth tubes to a geothermal system that provides further supplemental air conditioning. The air is then directed to the office wing, from which it's vented to the atrium and then used in the labs. At each stage, fresh air is added as needed. This pathway produces significant energy savings over the typical energy-intensive HVAC setup for this building type, where air is specifically conditioned for use in labs and then vented outside, fulfilling the lab's need for 100% ventilation.
The labs are given the building's best views, oriented towards the ravine. To control glare from the southwest exposure, undulating fins adorn the outside of the building. Inside the ground floor undergrad teaching labs, glass-sided and glass-backed fume hoods are strategically positioned to ensure continuity of views between labs. This provides extra safety in case of a lab emergency, as well as creating a sense of transparency and spaciousness unusual for a lab setting.
A backup diesel power generator, paired with an uninterrupted power supply unit, protects against sudden equipment failure in the case of a power outage.
U of T Scarborough staff calculate that the building uses 40% less energy compared to an existing lab building of comparable size on campus.
"Beyond being a beautiful building, this is an environmentally-friendly and energy efficient place to do cutting-edge research," says U of T Scarborough Principal Bruce Kidd. The research being done at ESCB will focus on pressing environmental issues including climate change, groundwater pollution in urban settings, restoration of environmental systems, and rising sea levels, to name a few.
For more information, including videos and animations of the building systems, visit dsai.ca/utsc-environmental-science-and-chemistry-building/